3 grommets on each side of fabric to ensure strength, and it's easy to install.

Has a 3 Year Limited Warranty under normal usage and weather.

zip tie included.
Spruce up any yard with a privacy fence screen!
We are proud manufacturers of our own products. We have patent a unique 3-Grommet triangle design in the corners of each screen that has been proven to be the most effective installation method for durability and security. Other screens often have 4 grommets in the corners instead, however, research has shown that geometrically triangles are more rigid and effective for stabilization. This is why we have intentionally designed each corner to have grommets shaped into a triangle 'L' shape.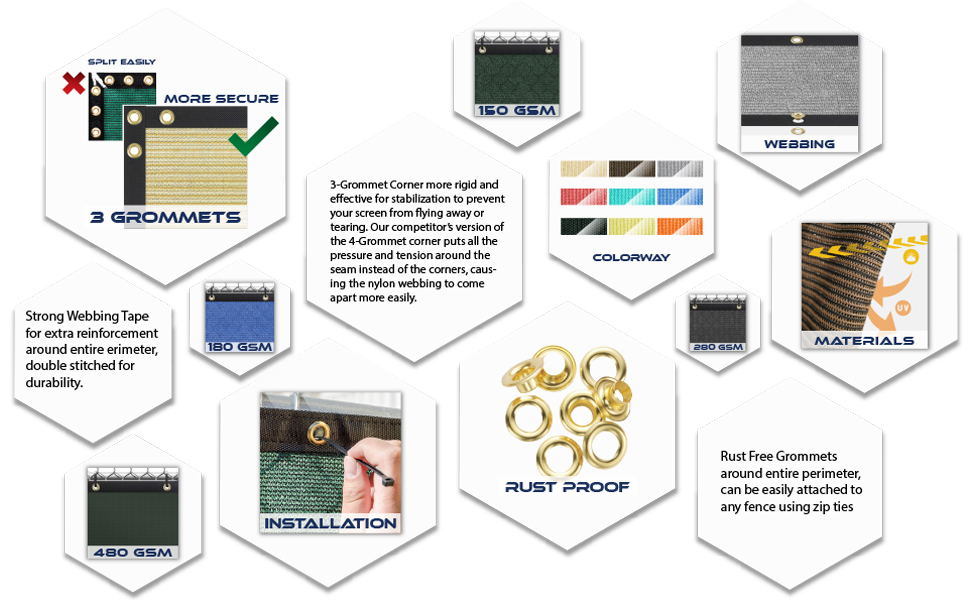 Product Features
Constructed of new high density material- polyethylene, allows maximum air to go through.
Prevents harmful UV sun lights from damaging for up to 88%, and fabric has a 2.5" enforced binding, so it's able to hold up even in extreme weather condition.
Customization available
We offer customized sizes that can be cut to fit any unique size or design. Our items are hand cut and sewn, so we can easily design a sail to fit all your shading needs!
Please contact our customer service at 626-715-4837 for further assistance. Or email us at cs@windscreen4less.com.